Contemporary Hot Tub Rooms
If you live in the UK and have treated yourself to a luxurious hot tub, then you may be disappointed when you experience how the temperamental British climate can interrupt your relaxation time.

No matter how good your hot tub is, unexpected rain is sure to put a bit of a dampener on your 'me time'.

But it doesn't have to be this way! By adding a SunSpace to your property, you can create your very own hot tub room. A hot tub room is an excellent way to keep the unpredictable British weather at bay and relax in peace!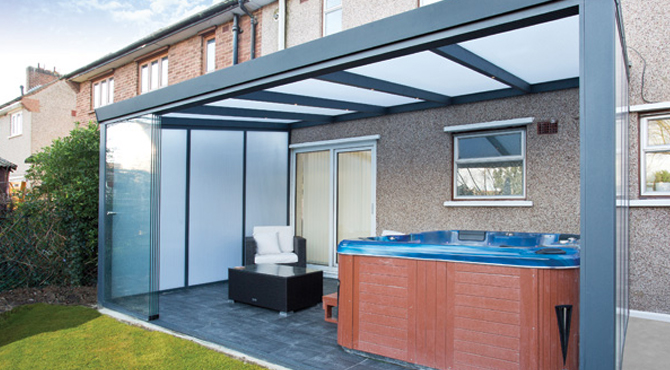 Hot Tub Rooms from SunSpaces
Adding a hot tub room to your property can not only provide you and your family with a welcome escape and source of relaxation that's suitable for any season, it can also give you an additional space for entertaining within your home.

Our garden rooms allow you to make the most of the sun, which will make relaxing in your hot tub in the warm summer months twice as enjoyable, but they also help protect you from harsher weather and provide you with the opportunity to really get your money's worth from your hot tub by enjoying it whatever the weather.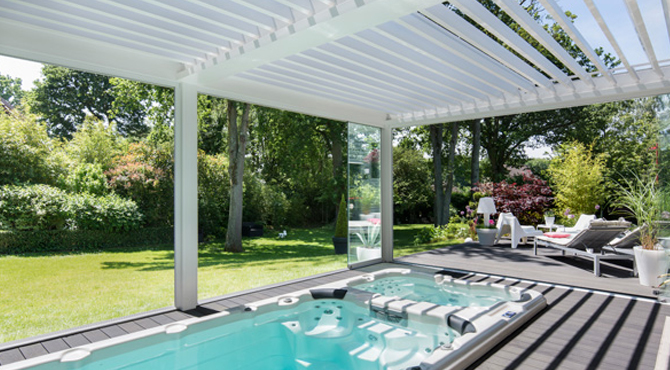 If you would prefer to bathe in your hot tub whilst enjoying the sounds of nature and breathing in the fresh air, our bespoke verandas can offer you shelter from harsher weathers whilst still allowing you to enjoy your outdoor space from the comfort of your hot tub.

Whichever option is more preferable for you, rest assured that SunSpaces' hot tub rooms can turn your dreams into a reality, creating the perfect outdoor space for you and your family. Call 0800 028 8756 or email info@sunspaces.co.uk to learn more!