Your Own Garden Lounge
Would you like to extend you living space? Are the kids constantly in there on their gaming console with their friends? Are you seeking a place of solitude to read a good book? Or do you simply crave a getaway where you can spend your spare time? If so, a SunSpaces garden room may be exactly what you are looking for. These stylish, contemporary structures have so much to offer, and there's no easier way to add a whole extra room to your property!
Lounge the Day Away!
Unlike a traditional extension or conservatory, SunSpaces almost never require planning permission. This means we can start your project at the earliest convenience, without the stress of waiting!

A SunSpaces garden lounge really is the most luxurious option available for your outdoor space. The sturdy aluminium structure and sleek-looking windows will keep the elements out while you relax; alternatively, if the weather is warm, you can simply slide open the doors and walls to let that beautiful sunshine in!

We offer an installation service so that you can leave the worry of setting up your new SunSpace to us – that way, you'll have even more time for lounging!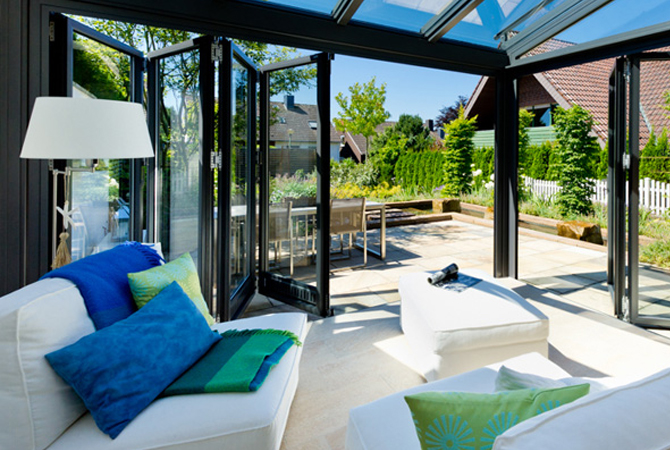 A Bespoke Lounging Area
We aim to offer a truly comprehensive service here at SunSpaces, and where most of our competitors merely offer a selection of 'off the shelf' solutions, we are capable of working to almost any specifications.

This means that, no matter what you have in mind for your garden lounge, we at SunSpaces can provide it! We offer a wide variety of sizes as standard, and we can even create bespoke sizes where necessary. Furthermore, we offer a huge range of additional products that will really help you to get the most from your new space – take a look at our various flooring products, and don't forget our showrooms that feature a range of Alexander Rose furniture to help furnish your new space!

Our luxurious garden lounges are perfectly suited to lazy Saturday afternoons when all you want to do is sit back, bury your nose in a good book, and generally lounge around. As stated above, we can work to almost any specifications, so feel free to give us a call and discuss your ideas – we will do whatever we can to help you realise them!

Click here to request your free garden lounge design, or email info@sunspaces.co.uk for more information.