Your Glass Extension
The Wintergarden is a fully insulated glass extension, ideal for anyone looking to expand their living space. Light and airy, this sophisticated, top-of-the-line glass room provides you with even more space in the home, bringing the outdoors inside in seamless fashion.
Much like a garden room, this insulated glass extension blends glass panes with an aluminium structure to create an effortless transition between your home and garden. The key difference is insulation – a Wintergarden truly extends your home for use throughout the year, adding significant resale value to your property.
Ample Ventilation
This insulated glass extension is compatible with a range of doors, windows and skylights for easy accessibility and airflow.


Roof Pitch
Our glass extensions can be constructed with a roof angle/roof pitch between 5 and 45 degrees.


Year-Round Enjoyment
This insulated glass extension is fully insulated for year-round enjoyment in any weather.
Insulated Glass Extension – Details:
This insulated glass extension's glass roof and bi-fold doors allow for light to bathe your home, providing you with a brighter and more airy space to enjoy. The completely bespoke design of the Wintergarden ensures that, no matter the size or shape of your home, we can provide a glass extension to suit you.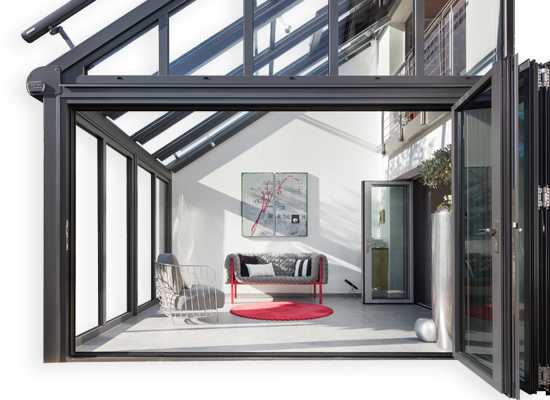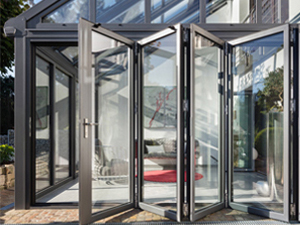 Various Panel/Door options available (see below)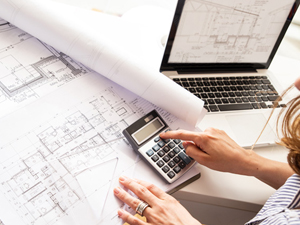 Completely flexible bespoke garden room, designed to meet your exacting specifications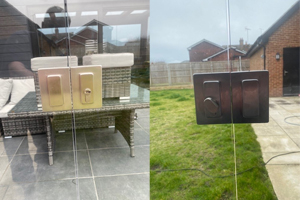 Optional locking doors
View our colour options here
This product is manufactured according to German construction standards, ensuring a guaranteed strong, safe and solid system and has been EN 1090-1 certified since January 2016.
Glass Extension Configuration Options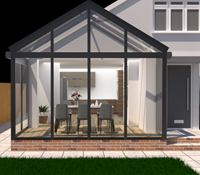 Example 1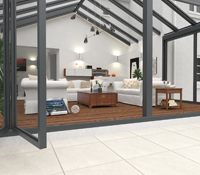 Example 2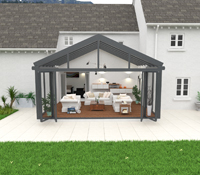 Example 3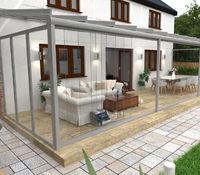 Example 4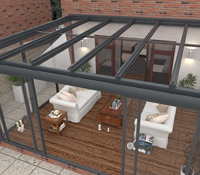 Example 5
Insulated Glass Extension Personalisation Extras


Roof Angle
Between 5° to 45°


Roof Pitch
The pitch of the roof can slope in either direction
Panel / Door Options
The versatility of the door panels provides infinite possibilities:

Fixed Glass Side Walls - Fixed glass side walls can incorporate a window and a door.
Bi-Fold Doors – Bi-folding doors may be incorporated. A 5 metre run of panels can be neatly folded away into a space of just 50cm deep!
'Patio' Style Sliding - Sliding Style patio doors feature stainless steel door handles and locks if desired.
Single Door in a Fixed Glass Wall – Add a single door to any fixed glass side panel of the Wintergarden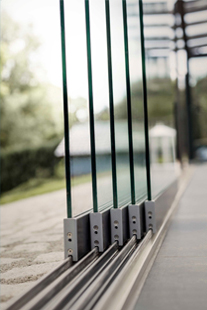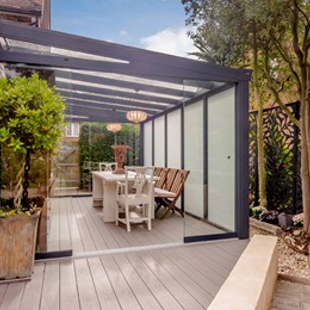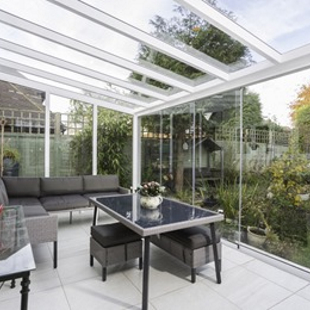 Optional Extras
Whilst daytime will serve up copious amounts of natural daylight, the fading evening light can be enhanced via the addition of lightstrips with integrated low voltage lights, which are fitted to the individual rafters. Furthermore, a range of spotlights, halogen lights and star spot lights, all equipped with dimmable transformers are available.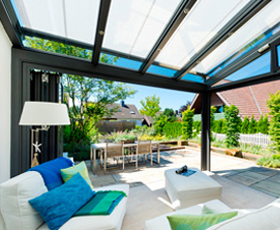 For those hot and stuffy summer days we offer a range of exterior awnings, which catch and reflect the sun rays before they enter your glass extension; alternatively, a range of sun blinds, pleated and foil blinds are available for internal use.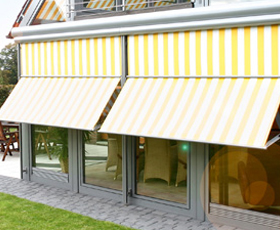 Adding an automatic control panel provides the maximum convenience – not only can the ventilation options be controlled, the shade and lighting systems can also be automatically controlled.
We recommend underfloor heating for your Wintergarden glass extension.
Whilst you will benefit from swathes of natural ventilation when the doors are fully opened, additional ventilation is available by way of tilt and turn windows, and integrated optional skylights for a boost on a hot summers day.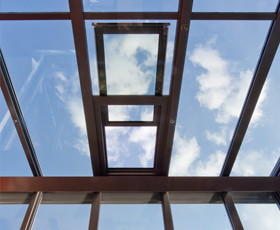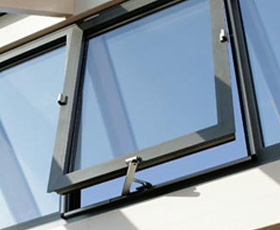 A Gorgeous Garden Room in Surrey
A couple from Epsom wanted to add more space to their home to accommodate their two energetic young children. However, they were hesitant to give up a chunk of their garden to make room for an extension, and they were keen to ensure that the new space would still have plenty of natural light. In the end, they determined that a garden room would be the perfect solution. After ...
View Case Study