Your Glass Extension
Our stylish and functional wintergardens are ideal for anyone looking to expand their living space. Light and airy, these sophisticated glass rooms provide you with even more space in the home, bringing the outdoors inside in seamless fashion.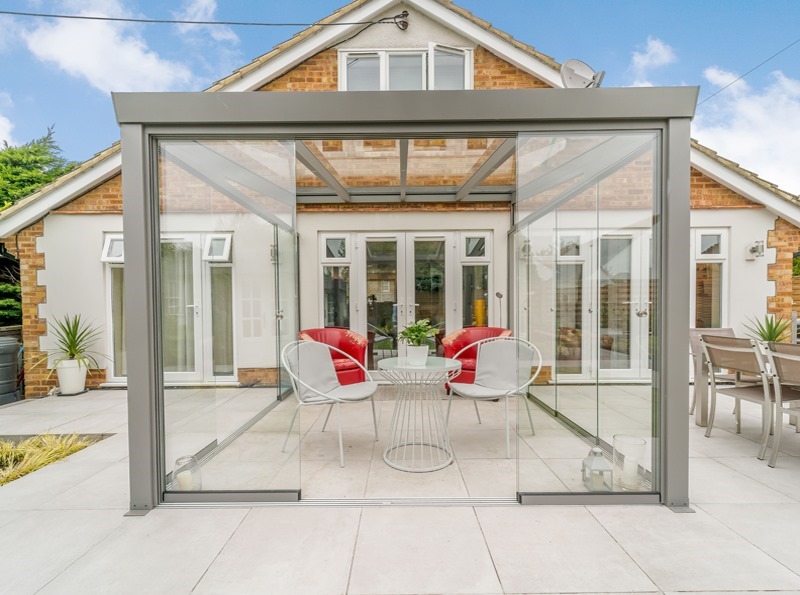 Our garden rooms combine 8mm thick safety glass with a sturdy aluminium structure to create an effortless transition between your home and garden. Adding a SunSpace to your property will increase its value, and your glass extension can be customised with state-of-the-art lighting and heating systems so that you can continue using it in autumn and winter.
Ample Ventilation
We offer a variety of door, window and roof options to ensure easy accessibility and good airflow for your wintergarden.


Roof Pitch
Our glass extensions can be constructed with a roof angle/roof pitch between 15 and 45 degrees.


Year-Round Enjoyment
SunSpaces wintergardens are built using 8mm thick safety glass that's designed to trap heat. Customise with heating options for all-year use.
What Is a Wintergarden?
A wintergarden is another name for a garden room or sunroom. If you love spending time in the garden – and wish you could get more your use out of your outdoor space during the colder months – then a SunSpaces wintergarden could well be the answer.
Our garden rooms are designed to extend the annual usability of your outdoor living space, and when combined with our range of heating and lighting products, these wintergardens really can be enjoyed all year round.
Click here to request a quote for your wintergarden.
Browse Our Sunrooms
Glass Extension – Details:
Our wintergardens are specifically designed to allow light to bathe your home, providing you with a brighter and more airy space to enjoy. We offer a number of bespoke options, so no matter the size or shape of your home, we can provide a glass extension to suit you.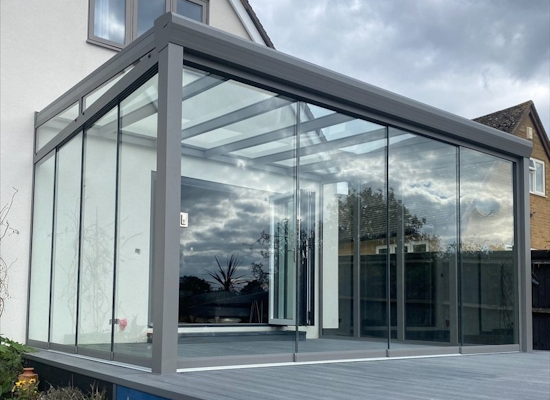 Standard

Round

Classic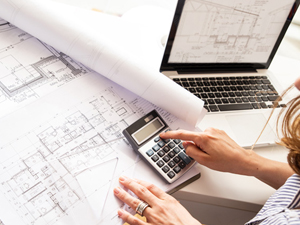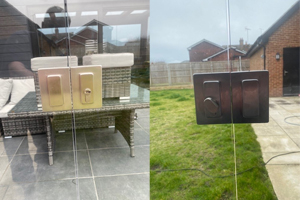 Various gutter options available
Completely flexible bespoke garden rooms, designed to meet your exacting specifications
Optional locking doors
This product is manufactured according to German construction standards, ensuring a guaranteed strong, safe and solid system and has been EN 1090-1 certified since January 2016.
Glass Extension Configuration Options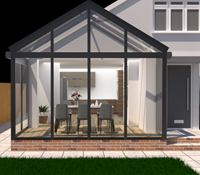 Example 1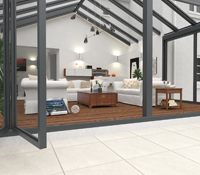 Example 2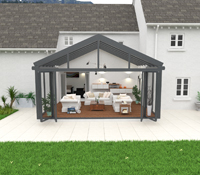 Example 3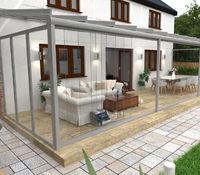 Example 4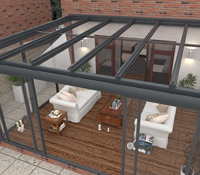 Example 5
Glass Extension Personalisation Extras


Roof Angle
Between 5° to 45°


Roof Pitch
The pitch of the roof can slope in either direction
Panel / Door Options
The versatility of the door panels provides infinite possibilities:

Fixed Glass Side Walls - Fixed glass side walls can incorporate a window and a door.
'Patio' Style Sliding - Sliding Style patio doors feature stainless steel door handles and locks if desired.
Single Door in a Fixed Glass Wall – Add a single door to any fixed glass side panel of your wintergarden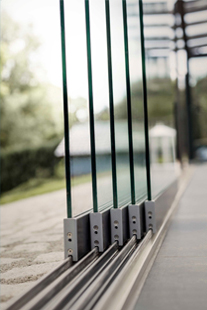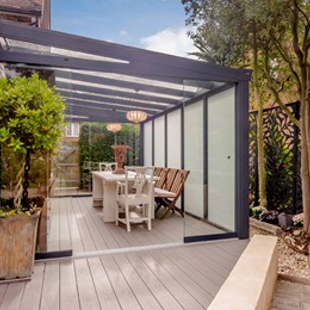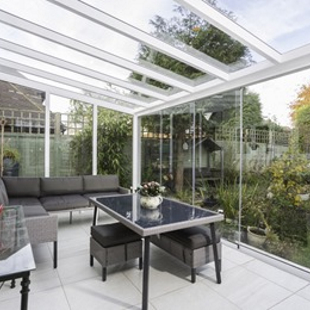 Optional Extras
Whilst daytime will serve up copious amounts of natural daylight, the fading evening light can be enhanced via the addition of lightstrips with integrated low voltage lights, which are fitted to the individual rafters. Furthermore, a range of spotlights, halogen lights and star spot lights, all equipped with dimmable transformers are available.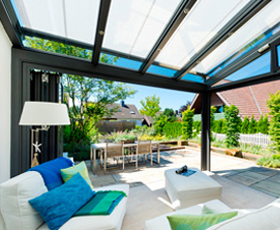 For those hot and stuffy summer days we offer a range of exterior awnings, which catch and reflect the sun rays before they enter your glass extension; alternatively, a range of sun blinds, pleated and foil blinds are available for internal use.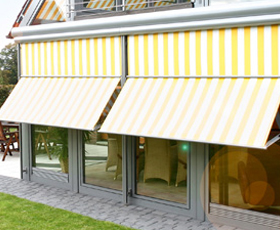 Adding an automatic control panel provides the maximum convenience – not only can the ventilation options be controlled, the shade and lighting systems can also be automatically controlled.
We recommend underfloor heating for your glass extension.
Whilst you will benefit from swathes of natural ventilation when the doors are fully opened, additional ventilation is available by way of tilt and turn windows, and integrated optional skylights for a boost on a hot summers day.