SunSpaces: Technical Features
On this page, we will discuss the main technical features of our sunrooms, glass extensions and verandas. Please see individual product pages to explore the full range of optional extras for your SunSpace. We believe that SunSpaces garden rooms have specifications far exceeding those of our competitors – if you have any questions about the following information, please call
0800 028 8756
to speak with a member of the SunSpaces team.
Sizes
Our garden rooms, verandas and glass extensions are available in a wide array of 'standard' sizes - see our size guide for further details. See individual product pages for further details. If none of our standard sizes are suitable for your space, we can provide bespoke structures to almost any size (note that larger structures will require additional supports).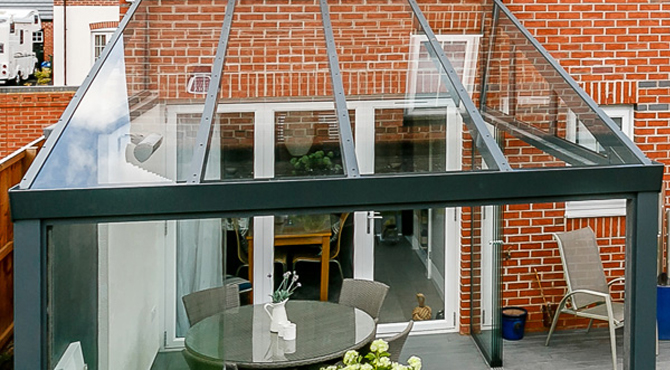 Gutters / Drainage
All SunSpaces structures are fitted with 14cm high gutters. The gutters are 3mm thick, ensuring superb stability, and drainpipes are integrated within the posts to create a sleek, aesthetically-pleasing appearance. Our standard gutter has a minimalist, modern look, although you can opt to add a Round Gutter Cover or a Classic Gutter Cover to personalise your garden room.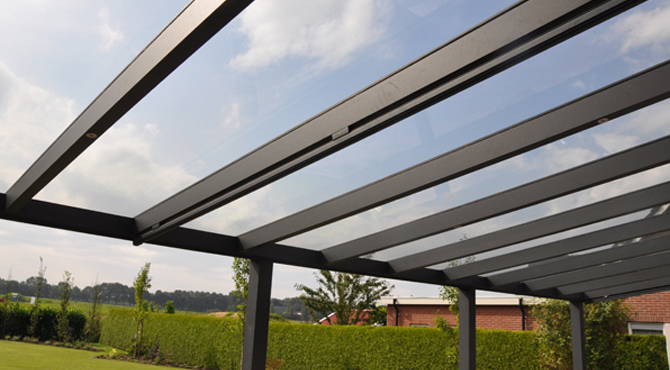 Roofs
We offer four different roofing materials: laminated glass (8mm thick), clear polycarbonate (to let in more light), opal polycarbonate (which blocks some sunlight), and IR clear polycarbonate, a special, heat-repelling form of polycarbonate that blocks 68% of heat while still letting the light in. All polycarbonate roofing sheets come with a ten-year warranty as standard. Sagging is prevented by supports on all 4 sides of each roof panel, which are secured with a rubber gasket to provide a sturdy support for the glass/polycarbonate sheets.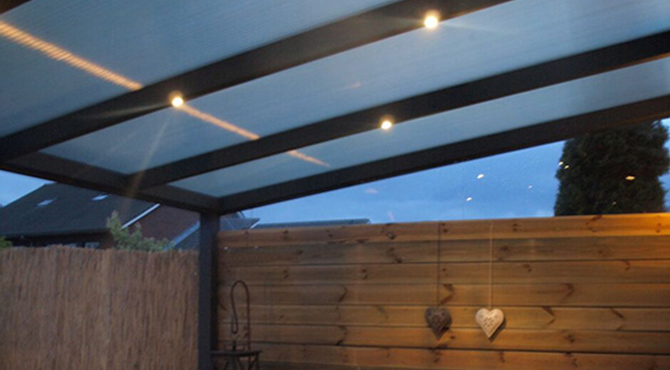 Lights and Heaters
If desired, we can supply integrated roof LED spotlights and/or 2kw heaters with your garden room. Our LED lights come in sets of 6, and include a remote control for ease of use; our 2kw heaters can be mounted inside your structure to provide added warmth. See our Heater page for further details.