Your Panorama+ Garden Room
Are you looking for a large garden room to complement your garden renovation project? Panorama+ from SunSpaces might be the perfect option for you.

With a maximum width of 700cm between 2 posts, these garden rooms allow for a freer, less obstructed view of your garden surroundings.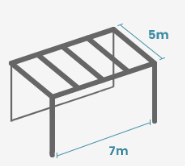 5m
NEW: 5m depth with glass roof
Benefit from unrivalled flexibility - these garden rooms come with a hinged profile so you can adjust the roof pitch to suit your needs on a day-to-day basis.
Panorama+ from
£9,385 + VAT
3m wide x 2m deep garden room, including installation
Standard Sizes
Width - 3m to unlimited
Depth - 1.5m to 5m
Get A Quote Today


10 Year Warranty
These extra-large garden rooms come with a 10-year warranty as standard for added peace of mind.


Extra Large Garden Room
Our Panorama+ garden rooms offer a maximum unsupported span of 7m between 2 posts.
Extremely Versatile
Combine your garden room with your favourite paving design for a personalised finish.
Panorama+ Garden Room Details:
Our Panorama+ structures offer a wealth of additional accessories, so why not kit out your extra-large garden room with some equally XL add-ons for maximum enjoyment? From heaters and lights to shades and sound systems, we offer a variety of customisable options to help create a unique garden room that suits your individual needs.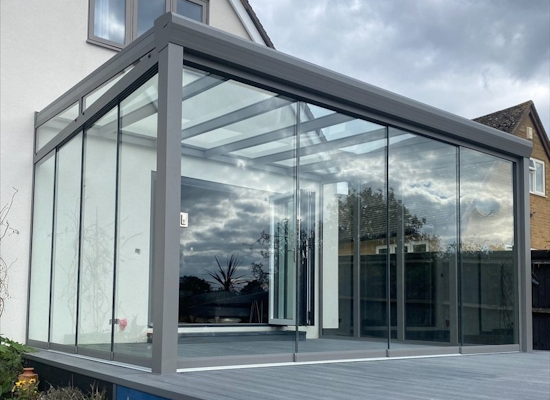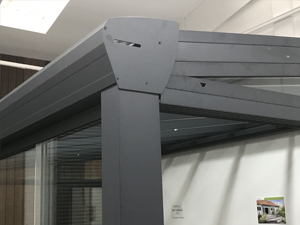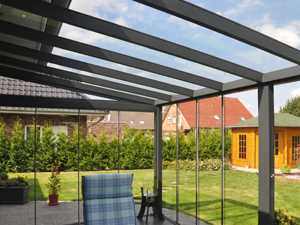 Clear


Opal


IR Clear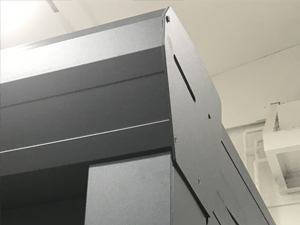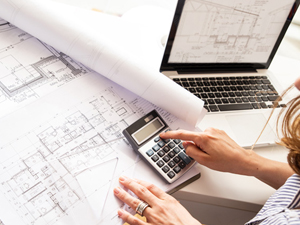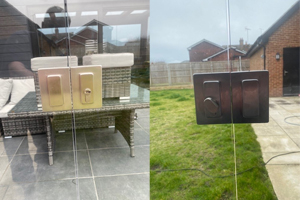 Optional locking doors
8mm thick laminated glass roof, able to withstand loads of up to 90kg per m2 (roughly 50cm of snow). Polycarbonate roof also available.
Gutter options:
Choose from a range of colours:
Completely flexible bespoke garden rooms, designed to meet your exacting specifications
10mm thick laminated glass sliding walls - 3 styles available.
Posts are 110mm x 115mm

Max width between posts 700cm meaning a less obstructed view.
This product is manufactured according to German construction standards, ensuring a guaranteed strong, safe and solid system and has been EN 1090-1 certified since January 2016.
Garden Room Configuration Options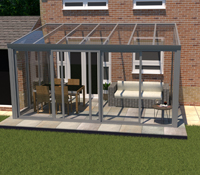 Example 1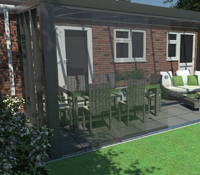 Example 2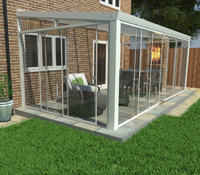 Example 3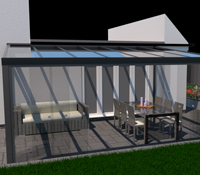 Example 4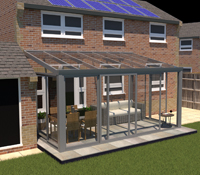 Example 5
Optional Extras
Would you like to make the most of your SunSpace long into the evening hours? Our LED packs include 4 LED lights, a transformer and a remote control, so you can brighten up your outdoor living space with minimal effort. Light extension packs available.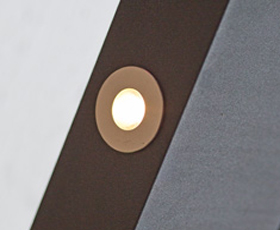 Set of 4 lights
£217 +VAT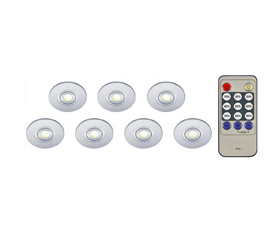 Set of 6 Lights
£263 +VAT

Set of 8 Lights
£309 +VAT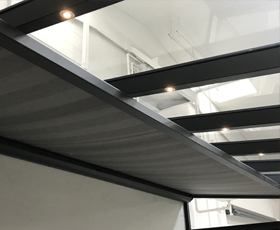 Set of 10 Lights
£355 +VAT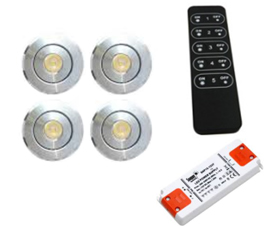 Set of 12 Lights
£400 +VAT
Choose from our range of outdoor heating options to make your Panorama+ garden room the place to be all year round. Your garden room will maintain a comfortable temperature all year round with our range of optional heaters.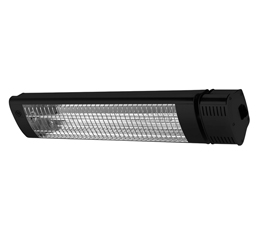 Model 1 1800w Infra-Red w/remote
£166 +VAT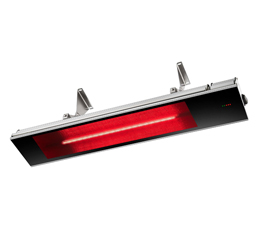 Model 4 1800w heating panel w/remote
£332 +VAT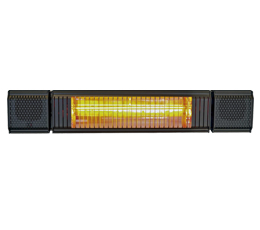 Model 5 heater and Bluetooth speaker w/remote
£315 +VAT
Combat screen glare and reduce internal heat with our range of fabric shade systems. We offer electric shade systems complete with UV-resistant material and available in a range of colours for full custom personalisation. Below-roof and above-roof shades available.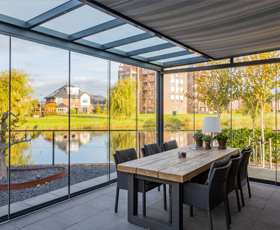 Roof shade pack (below roof)
Starting at
£1,790 +VAT
+VAT for a 3m wide x 2m deep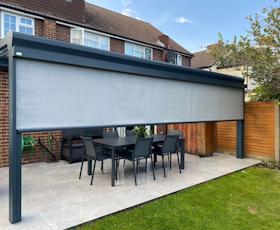 Roof shade pack (above roof)
Starting at
£2,270 +VAT
+VAT for a 3m wide x 2m deep
The sound of the summer is different for everyone. Use our speaker/heater units to bring the party outdoors and add your own soundtrack to your outdoor living space. Our speakers are also Bluetooth-ready and remotely-controlled for effortless enjoyment.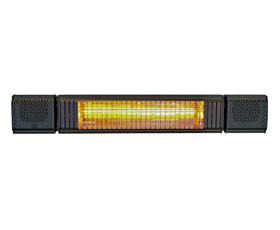 Model 5 heater and Bluetooth speaker w/remote
£315 +VAT