Your Lite Awning
Looking for an outdoor canopy that will light up your garden? Our Lite awning may be the perfect solution. This semi-cassette awning comes with integrated LED lights that allow you to enjoy your deck or patio long after the sun has set and evening has descended.
The awning lights are fully adjustable and dimmable, and the awning itself is available in a spectacular range of colours and styles. The canopy is retracted electronically using a radio remote control, or via an intelligent system that automatically responds to changes in the weather.
For an additional price, your Lite awning can be fitted with a slim aluminium profile (optional extra) that eliminates the gap between the awning and the wall. This means that rain drains off when the awning is being retracted.
view it here
.
Awning Pricing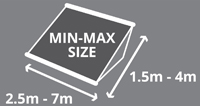 Lite

(2.5 x 1.5 metres)
£5,040.00 inc VAT
Get A Price Today
All prices include installation
In addition, there are many custom RAL colours that can be selected for an additional price.


5-Year Warranty
Purchase your Lite awning with confidence, each one comes with an impressive 5-year warranty
Wireless Control
Intelligent remote controlled Somfy motor makes operating your Lite awning incredibly easy.
Wind Resistant
Rated to wind resistance class 2 (corresponds to Beaufort 5).
Lite Awning Details:
Choose from a range of options and accessories that allow you to create your dream outdoor space. Lite awnings come in a huge variety of colours, styles, sizes and can be easily customised with heating and lighting to create a stylish and cosy space.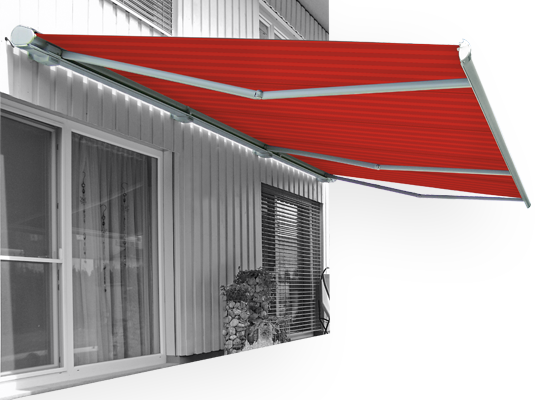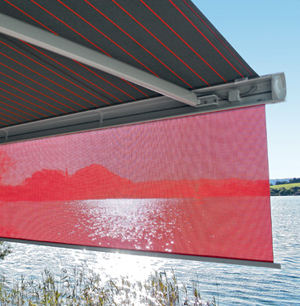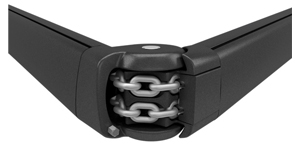 Standard arm - double chain link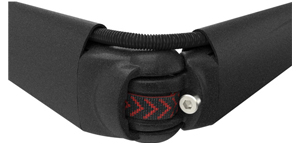 Bionic tendon arm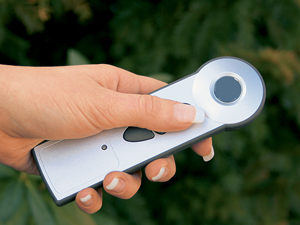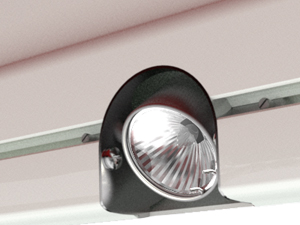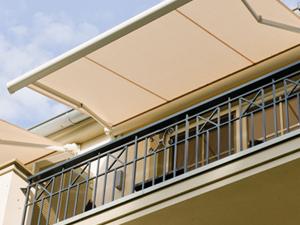 Folding Arms. Our standard folding arms feature a sturdy double chainlink mechanism.
UV-Resistant Fabric. The awning's UV-resistant fabric comes in more than 250 different styles and patterns. A range of valances are also available.
Customisable Dimensions. Choose the exact dimensions of your awning (maximum 4m deep and 7.1m wide).
Your retractable Lite awning can be operated electronically using the wireless remote control.
View our colour options here
Integrated lights
Optional Extras
End caps can be provided in the same colour finish as your awning's frame, or a contrasting chrome finish can be selected at no additional cost.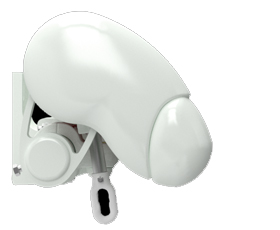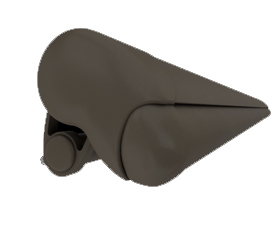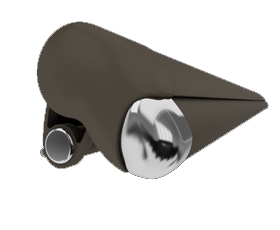 The pitch of your Lite awning is adjustable from 5 to 15 degrees if face-fixed, or 5 and 50 degrees if top/eaves-fixed. It's easy to adjust pitch angle in response to light and weather changes.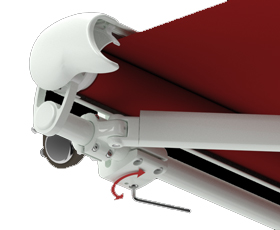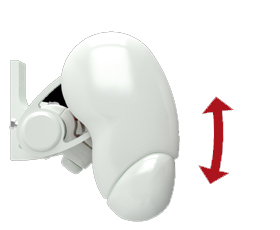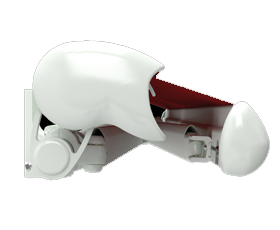 Integrated adjustable lights in the front cover profile face back into the area underneath the awning, providing plenty of light even after the sun has gone down.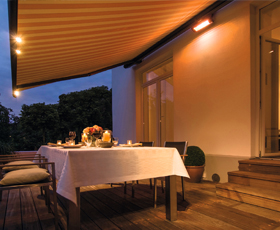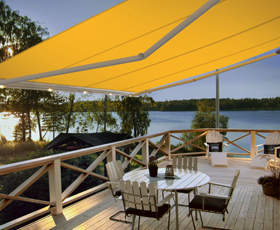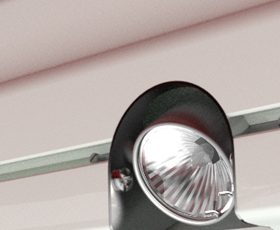 For extra comfort on colder evenings, we can supply a remote-controlled 2.5kW radiant heater for use with your awning (this is an optional extra).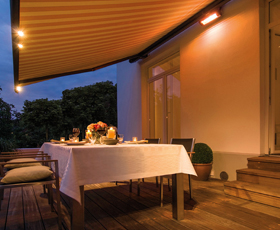 If you would like to set up your awning away from the main body of your property, we can supply a standalone support (7 colours available) to be concreted into the ground wherever you wish. An optional adjustable version allows 355-degree rotation.